Here's a link to a piece in this week's Dunfermline Press about my show Northern Lights -An Artistic Odyssey of Scotland's Coast.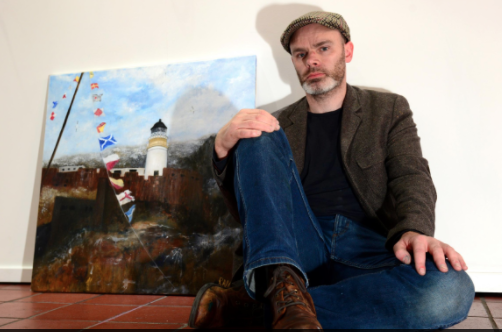 Text from article below:
BE captivated by the beauty of Scotland's breathtaking seascapes and lighthouses at the Fire Station Creative's latest exhibition.
'Northern Lights: An Artistic Odyssey of Scotland', the first solo exhibition by self-taught Dunfermline artist Clive Ramage, 45, launched at the weekend and will run until November 22.
The artworks on display are based on Clive's year-long travels in his camper van around Scotland documenting the landscape and scenery from Stromness to the Mull of Galloway, after being awarded a grant by Fife Contemporary Arts and Crafts.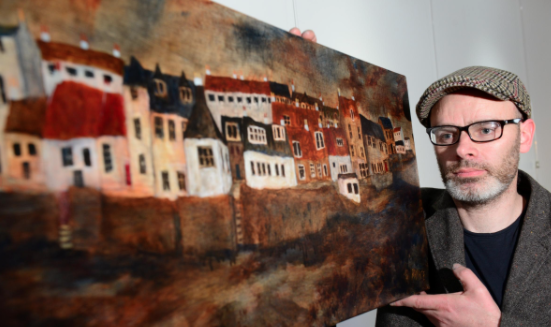 The inspiration for the project came from Clive's childhood experiences growing up in Arbroath.
He said, "I've always been drawn to the sea. Each night, like clockwork, the Bell Rock, Isle of May and Fife Ness lights would intermittently flash their beams out across the cold, dark sea and I would watch – mesmerised at my bedroom window.
"Those magical, exotic lights across the sea have continued to tantalise and inspire me and I have always wanted to capture something of that magic and atmosphere in pictorial form."
The effects of the weather also provided their own inspiration for Clive's paintings.
"The colours and atmosphere of each location probably became the more important feature of the work," he explained.
"It wasn't so much the lights themselves that were intriguing me pictorially, but the wild spaces between them, the surrounding landscapes."
Clive has previously exhibited in the Royal Scottish Academy, the Royal Glasgow Institute of the Fine Arts and the Royal Scottish Society of Painters in Watercolour.
He is also a member of the Fife Dunfermline Printmakers Workshops and rents a studio in the former fire station.
He added, "Fire Station Creative is such a beautifully renovated space for exhibiting artworks.
"The wonderful Fife coast and the East Neuk in particular have also proved to be a huge inspiration to me, so it will be great to be show some of that work here too."
Gallery curator Ian Moir said, "We're really proud to be showing off the talent that comes from our own studios.
"I think this exhibition will be well-received by the public. The subject matter is very accessible and the artworks have been extremely well-executed. It's going to be a great show."
Entry is free. The gallery is open from 10am to 5pm Wednesday to Saturday and 11am to 4pm on Sunday.