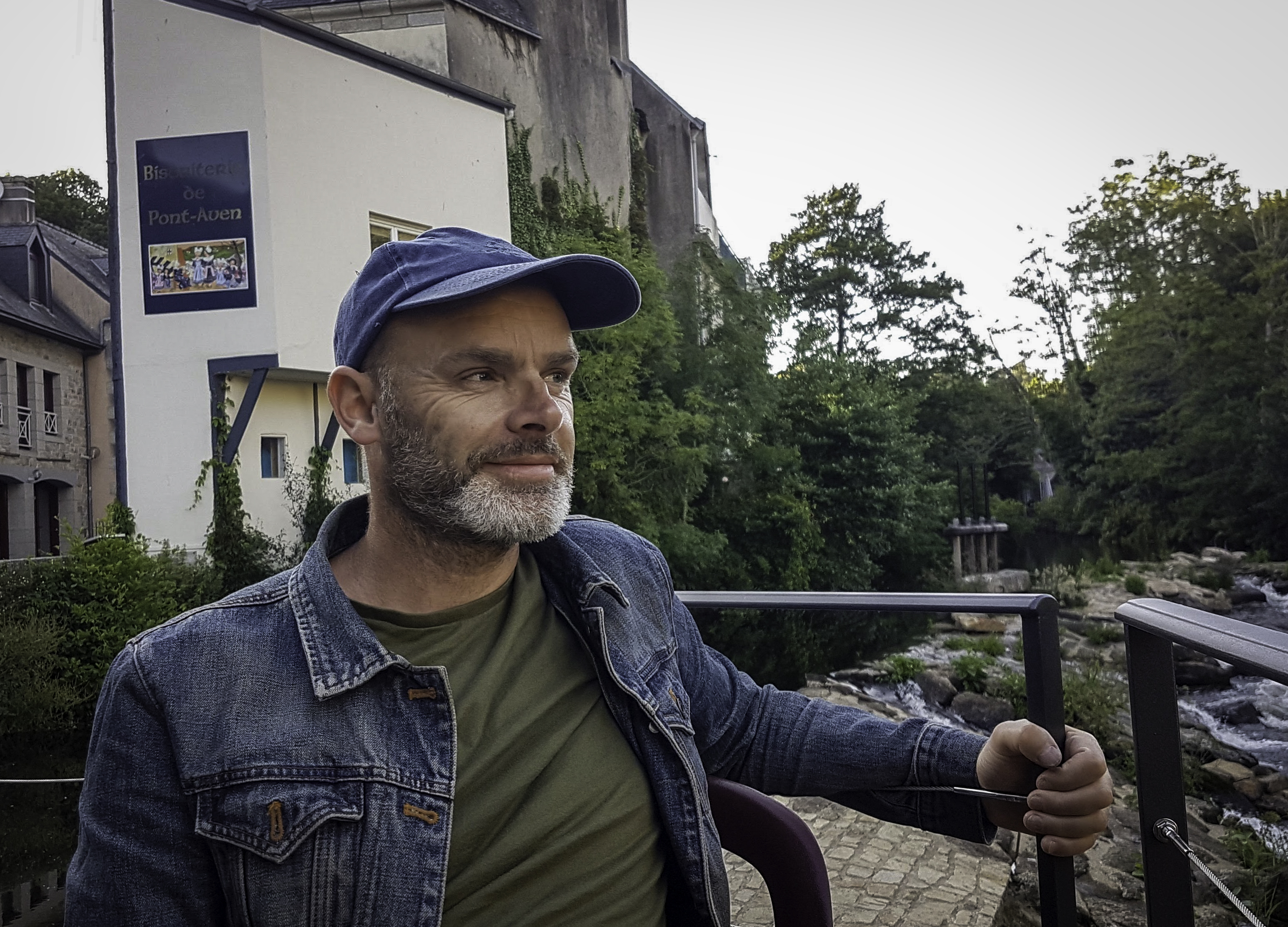 My first tentative steps to becoming a full-time artist began over 30 years ago, when I moved to Edinburgh to study an entirely different subject. My journey through life since then has been wide and varied, but art has always remained at the forefront and the city of Edinburgh has continued to inspire my work. Being self taught, I believe there are no set rules within which an artist should constrain themselve and, as a result, my work is varied in both subject matter and in the techniques I use to create it.
Much of what I do is an attempt to capture the mood or atmosphere of the places that fire my imagination. Many of my landscape paintings feature the beautiful architecture of Edinburgh and the ramshackle villages of Fife's East Neuk. Scotland's wild weather and more remote nooks and crannies also provide much inspiration. But I often looked further afield for inspiration, even as far as the moon at times.
My paintings and prints have featured in many prestigious exhibitions, including the Royal Scottish Academy Open, the Royal Glasgow Institute of Fine Arts Annual Open, The Royal Scottish Society of Painters in Watercolour and the Society of Scottish Artists annual exhibitions. My work is held in private and corporate collections around the world.
Please click here or follow the link on the Shop page to buy my fine art giglee prints (and occaisionally originals) directly from me, or get in touch via the Contact page for further information or commissions.
You can also follow my progress and travels in art over on Instagram and Facebook.
Original paintings and prints can also be purchased from the following galleries:
Morningside Gallery, Edinburgh
Corporate Clients:
Tobermory Distillery
Multiply Agency, Edinburgh
Carbon Financial, Edinburgh
Adelphi Distillery
Maclean & Bruce
Robert Graham 1874
St Columbas Hospice
A selection of Exhibitions and projects includes:
2021 – Fidra Fine Art, Gullane, Bass Rock (4 Sept – 3 Oct)
2021 – Scottish Society of Artists, Insectarium – Fear and Fascination (3 June – 25 July)
2021 – Strathearn Gallery, Crieff (Summer Mixed Exhibition, 3rd July – 5th September)
2020 – Marchmont Gallery, From Edinburgh to The Moon Solo Exhibition Preview on February 16th 
2020 – Frames Gallery, Perth (Dunfermline Printmakers Workshop)
Preview on 7th Feb
2020 – The Velvet Easel, Portobello (Of Night and Light) – until 1st March
2020 – Morningside Gallery, Edinburgh Small Paintings
2019 – St Columbas Hospice, Edinburgh (Annual Art Show 24-27 Oct)
2019 – Frames Gallery, Perth (40 Years of Excellence)
2019 – Eion Stewart Fine Art, Stonehaven (The Printmakers, May-July)
2019 – Fidra Fine Art, Gullane (Architectural Landscape, Jan-Feb)
2019 – Society of Scottish Artists Annual Open (Dec – Jan)
2018 – Royal Scottish Society of Painters in Watercolour (RSW) Annual Open (Nov – Dec)
2018 – Royal Scottish Academy (Summer Open Exhibition)
2018 – Gallery Henizel, Aberdeen (Until March 2019)
2017 –Frames Gallery, Perth (Winter Exhibition – until March 2019)
2018 – Washi Umi O Koete, Dunfermline Library (Oct – Jan 2019)
2018 – ArTay, Perth Festival of the Arts
2018 – Washi Umi O Koete, Glasgow Print Studio (March)
2017 – Washi Umi O Koete, Edinburgh Sculpture Workshop (November)
2017 – The Velvet Easel, Portobello (Winter Show December)
2017 – Howe Street Gallery, Northern Lights Solo Show (23rd – 29 November)
2017 – Dancing Light Gallery, Whitmuir (October – January 2018)
2017 – Gallery Henizel, Aberdeen (Winter Exhibition November – 3 March 2018)
2017 – Frames Gallery, Perth, (Winter Exhibition, November – March 2018)
2017 – Royal Scottish Academy (Summer Open Exhibition)
2017 – ArTay, Perth festival of the Arts (18-21st May)
2017 – Strathearn Gallery, Crieff, Grand Art (22 April – 21st May)
2017 – Gallery At Fifty Five, Stonehaven
2017 – Morningside Gallery, Small Paintings Exhibition
2017 – Frames Gallery, Perth, Winter's Beauty (19 Nov – 28 Jan 2017)
2017 – Royal Scottish Society of Painters in Watercolour (RSW) Annual Open
2016 – Society of Scottish Artists (SSA) Annual Open (November 2016)
2016 – Macmillan Art Show, Bonhams, Edinburgh (25-28th Aug)
2016 – Maggie's Cancer Care Charity Event, Edinburgh (June 23)
2016 – Gallery Heinzel Summer Show (11 June – 20 August)
2016 – St Columbas Hospice Art Show, Edinburgh (2-5th June)
2016 – ArTay, Perth festival of the Arts (May)
2016 – Frames Gallery, Perth, The Art of Printmaking (5 March – 2 April)
2015 – Society of Scottish Artists (SSA) Annual Open Exhibition (Dec 21 2015 – Jan 18 2016)
2015 – Gallery Heinzel, Aberdeen (Winter Exhibition, November 2015 – March 2016)
2015 – Fire Station Creative, Dunfermline (Dunfermline Printmakers Exhibition Dec – Jan 2016)
2015 – Edinburgh Art Fair
2015 – Fire Station Creative, Dunfermline, Northern Lights Solo Exhibition (November 2015)
2015 – Gallery Heinzel, Aberdeen (Mixed Summer Exhibition, June 2014 – August 2015)
2015 – ArTay (Perth Festival of the Arts)
2015 – Frames Gallery, Perth (March) Scottish Printmakers
2014 – Gallery Heinzel, Aberdeen (Mixed Winter Exhibition, 14 Nov 2014 – March 2015)
2014 – Morningside Gallery, Edinburgh (Winter Exhibition)
2014 – St Andrews Museum & Gallery (Sept–November)
2013 – Royal Glasgow Institute of the Fine Arts Open, McLellan Galleries, Glasgow (Nov/Dec)
2013 – Impact 8 International Printmakers Conference, Duncan of Jordanstone (Aug)
2013 – Dunfermline Printmakers Summer Exhibition, Lochgelly Center
2013 – Boxed set commissioned by The Carnegie Trust as part of Dunfermline Printmakers
2013 – Royal Society of Painters in Watercolour Open 2013, RSA Edinurgh
2012 – Winter Exhibition at the Meffan Gallery, Forfar
2012 – Royal Scottish Academy (RSA) Open
2012 – 20/20 Print Exchange, Hot Bed Press (touring exhibition throughout UK)
© All material is copyright of Clive Ramage 2020