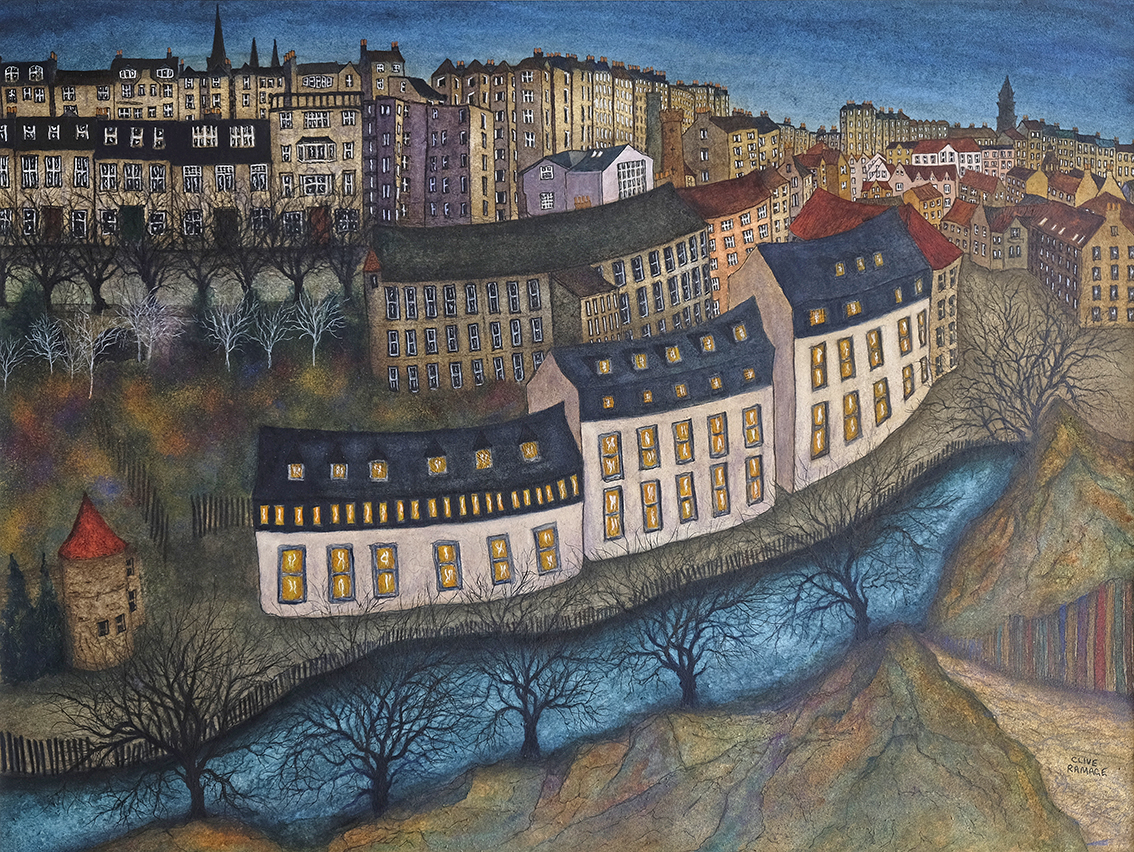 I'm very pleased to have another Dean Village hand-painted etching accepted for the RSA Summer Show this year. Last year the colours were dominated by pinks and inspired by the setting sun. This time the sun has dipped below the horizon, so it's blues and greens that predominate. It was especially good to get it in as it had to be reframed to meet the 80cm max size rule. The image itself is 65x50cm.
This painting has also been selected for inclusion in what promises to be a lovely and exciting new art book showcasing Edinburgh art and artists; it's due to be published next year, but I won't say too much about that for now. More details to follow …
I made the copper etched plate for this scene about 2 years ago and have now done 6 different versions. I really enjoy painting these and like to think I'm following in a tradition set up by the likes of Cezanne and Van Gogh, who would often return to paint familiar motifs and much loved scenes. Cezanne painted the view of Mont Sainte Victoria in Provence, France more than 10 times and Van Gogh did several versions of his sunflowers, blossoming trees and various other motifs over the course of his life. While it might look like repetition on the surface, it's actually a great way to experiment with colour and technique and that helps any artist to keep improving.
I have to admit though that I do love painting this particular scene, so will probably continue to create more paintings from it at least until I've used up all the ideas I have to make each an individual artwork in it's own right. I'm thinking of doing a couple based on snowy weather next.
Working up my etchings into stand alone paintings is something I initially did in order not to waste what might have been an early proof copy, or perhaps one of the prints that didn't make it into a final edition. Now I enjoy making line etchings specifically for hand colouring in a variety of media, as it allows me to experiment so much. Sometimes I'll then go on to produce larger paintings in oils or acrylics that are based on work I consider to have been successful in this hybrid etching/painting format.
The RSA Summer Exhibition is open to the public from 3 June 2018 – 25 July 2018 and should be a highlight of any trip to Edinburgh during this summer!
Here's last year's entry for a comparison of the two versions …