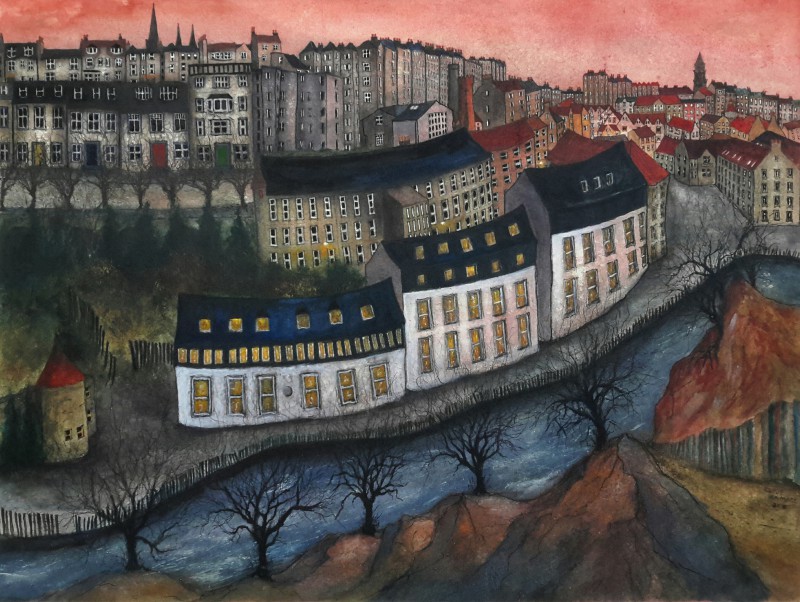 Here is my latest version of Dean Village in Edinburgh. It's another hand-painted etching and I have focused here on the pinks and blues of the setting sun. I have also added a detail of the bottom right-hand corner of the painting below to show better how the colours are built up in layers using various methods.
I currently have work in 4 separate exhibitions this month and also next, including the Royal Scottish Society of Painters in Watercolour at The Meffin in Forfar; Fire Station Creative, Dunfermline and arTay (Perth Festival of The Arts).
We will also be opening our doors once again at the Fire Station Open Studios event over the whole of next weekend from the evening of Friday 27th and all day Sat/Sun 28 & 29th (10-4pm). Celie and me have completely covered our studio's walls along with half the walls in the building with work to see and buy! Do come along if you're in the area, or make a special trip and I assure you it will be worth it. Lots of very good work and interesting artists to see and meet and also great entertainment in the cafe throughout the weekend.
Finally, I will be exhibiting and hopefully selling my work alongside a selection of other artists in support of the St Columbas Hospice from the 3-5th June. Please come along to any or all of these events and remember to say hello if you do.
Clive