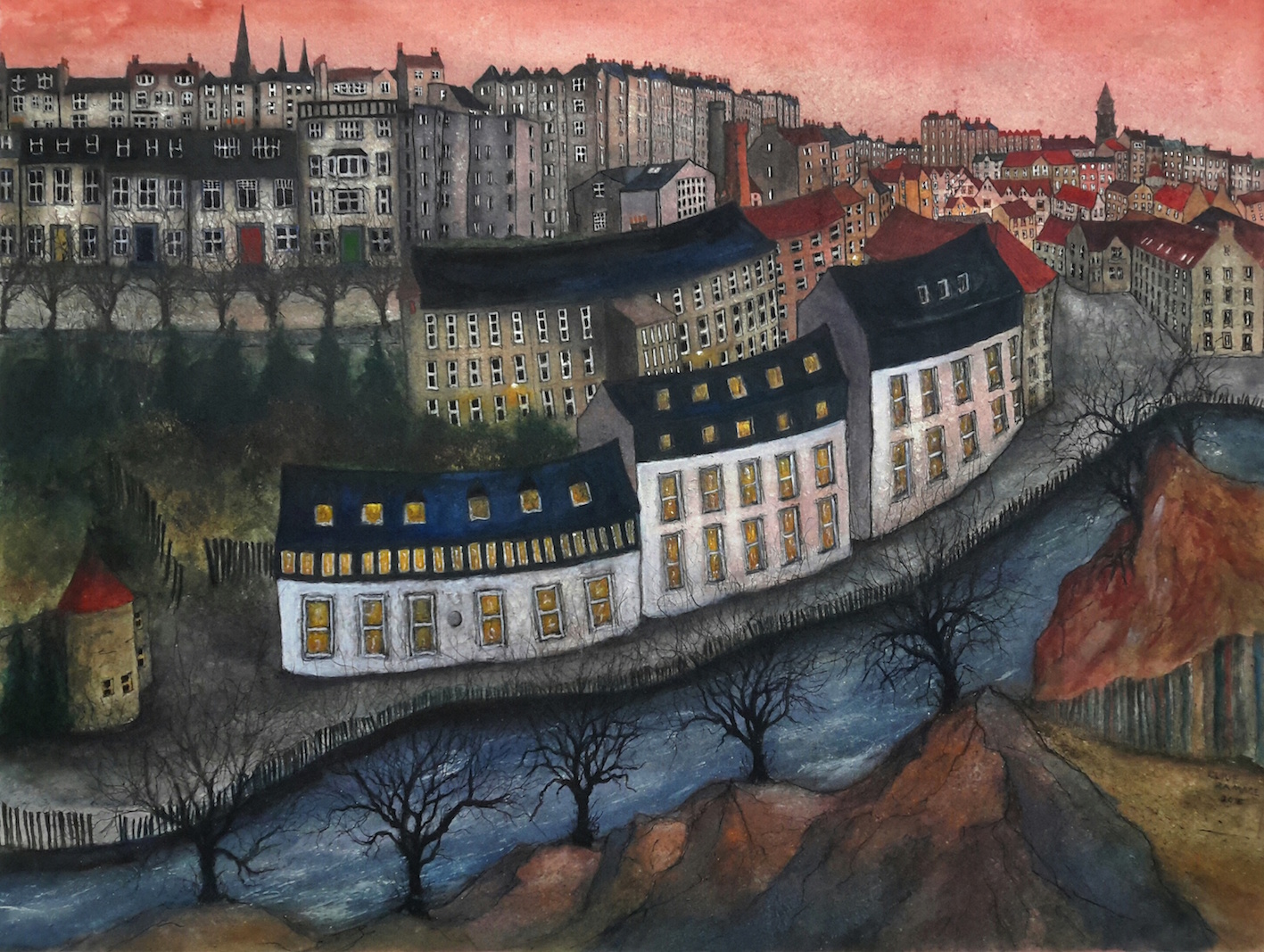 I'm delighted that my latest Dean Village hand-painted etching (Sunset) has been accepted to be exhibited at the Royal Scottish Academy Annual Open 2017. It's the 4th in a series of 10, each of which depicts the scene at a different time of day or season.
I'm especially pleased that this painting was accepted as I think it it's the best piece of work I have done to date. It's certainly the one I'm most satisfied with, insofar as it's the closest I've gotten to achieving what I had in mind when I began the series last year. I'm also really pleased to have work in this particular RSA Open as it's on during the Edinburgh Festival, so it's going to be very busy.
I won't make it to the opening of the exhibition unfortunately, but I'll look forward to seeing the exhibition when I return from my summer holiday. I'm off to Belgium and Holland to get up close and personal with all my favourite paintings by artists like Bosch, Brueghel, Avercamp, Rembrandt and Vermeer. I'm especially looking forward to going back to the Rijksmuseum which was mostly closed for refurbishment the last time I visited, so I only saw a fraction of the artworks they normally have on show.
I'm currently reading the weighty Van Gogh, The Life tome and so this is also going to be a bit of an artistic pilgrimage to the places where he lived, worked and painted in those 2 countries. I'm hoping to come back brimming with ideas and inspiration and, despite the huge amount of anticipation I have for going on this trip, I'm already looking forward to getting back to work when I return.
I'll try and post a few pictures from my trip here and on my Instagram page, so watch this space.
On another note, I just delivered a batch of etchings and paintings to The Coach House Gallery in Pittenweem, which will be on show there during the Pittenweem Art Festival. So drop in for a look if you're planning a visit (which runs between 5-12th August). And if you haven't been to Pittenweem or the festival before then it's well worth the trip. The village is stunning and the interiors of some of the houses perched on the hill above the harbour are well worth a visit in their own right. There's over 100 artists showing, as well as music and other events so there's plenty to see and do.
Happy Holidays!!