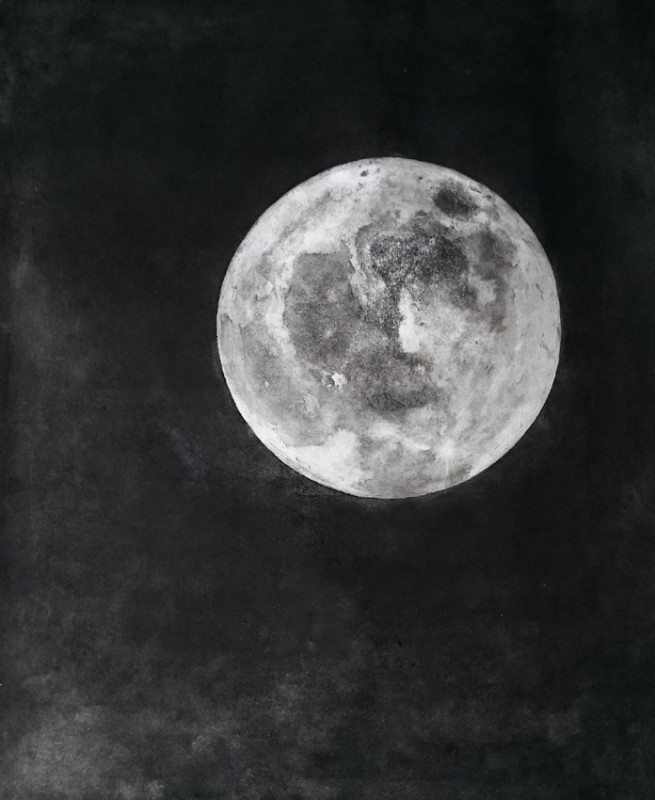 Since there's going to be a total eclipse AND a 'super moon' tomorrow, I thought I'd try and finish the print I've been working on all week, as it is kind of appropriate. When I started it last week I didn't know about all the celestial events coming up.
It's an aquatint and spit bite print from a copper plate and is my largest to date at 48x58cm. I found an old photo I took from the Fourth Bridge a few years ago and thought it would make a nice change to do something completely different. I enjoyed making it so now I might do a whole series of planets, moons etc. Watch this space!
Anyway, for those who always like to ask how long it takes to produce a particular work of art, I can tell you that each of the 4 stages of development took a full day (about 8+ hours). To run off the final print takes roughly an hour on average, as it's a large one at 48x58cm and there's a lot of ink to put on then wipe off each time before running the plate through the press.
Don't forget your special eclipse specs for tomorrow!