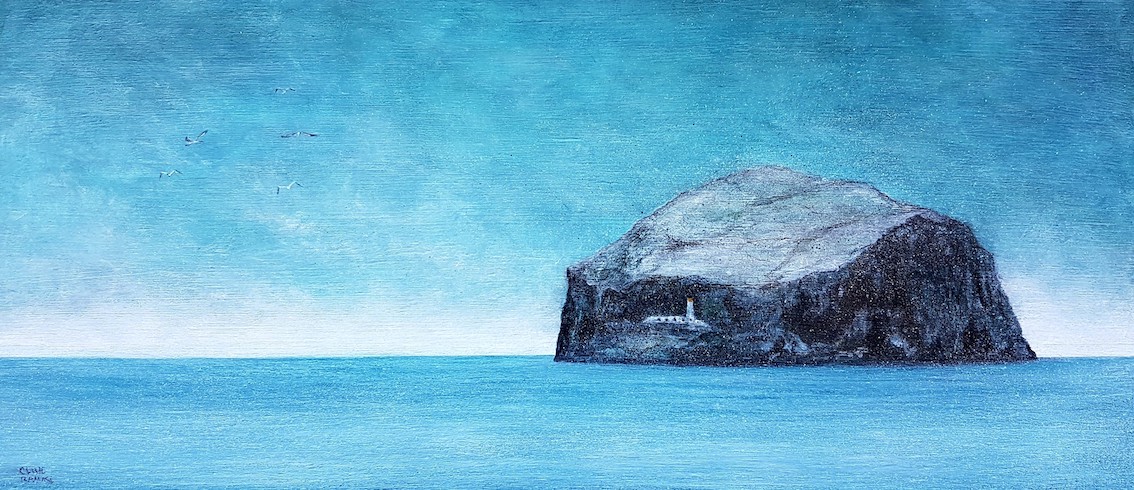 Bass Rock (Blue)
Acrylic on plywood
66x38cm
It's been a while since I last posted anything here but that doesn't mean I haven't been keeping busy. In fact, it's because I have been so busy that I haven't had a chance to get near my website to update it.
During the past few months I've taken to painting with acrylics on wood panels primed with gesso and I have to say that, despite not being one for regrets, I wish I'd done so much earlier. I love it!
The above painting of the Bass Rock (always a favourite subject of mine) is my first painting using acrylics and below is the second. I'll continue to paint with oils for certain things, but for the time being acrylics are the way forward! Painting with them is so much quicker and easier for me and I can't tell the difference in the end result. I always struggled with the fumes involved with turpentine, not to mention the sometimes ridiculously long drying times, which often mean waiting days if not weeks before the next colours could be layered on top of previous ones. I'm quite an impatient and impulsive person at the best of times and I like to work with a certain immediacy backed by intuition and feel, then step back to assess the results before getting on with the next stage. And because I like to work in layers across the whole picture the fast-drying nature of acrylic paint suits both my temperament and working methods perfectly.

I imagine the reason it took me so long to give them a go was because of the significant expense I'd already laid out on oil paint and the sundry materials required to get the best from them. It also meant a large initial investment in all my usual colours of artist-quality paints in the new binding medium (the pigments are exactly the same and isn't that what really counts?!).
I think there's also a certain historical stigma or bias (even snobbery?) attached to various methods and painting media – within the artistic community and among collectors, the public at large etc – which has meant that oil paint is sometimes seen to be king and the other binding agents are classed somewhere lower down the pigment-carrying rankings. And while there's an obvious difference in the look and feel of a pastel, an oil or a watercolour painting of the same subject, I don't really see much difference in the quality between oils and acrylics. I never really understood why say watercolour is often seen as a very poor relation when some of the finest artworks ever created were done in that medium (Albrecht Dürer's Young Hare, for example). But maybe I've been guilty myself of a little snobbery on that front too in the past. No more!
But the other big change for me has been using good quality plywood, which has a lovely grain and firm surface and is a pleasure to layer paint on, thick or thin. (I never had a great love for the 'giving' nature of canvas!) Adding gesso as a primer allows even more texture for creating interesting marks and runs of thin paint, which I also love to do.
So I've just primed a stack of plywood ready for painting a series of Bass Rocks of various colours and moods. The above ones are the first of many to come and they will be available for sale later this week at the 2018 Art Friends of St Columbus Hospice show, details of which can be found below.

http://www.stcolumbashospice.org.uk/the-art-friends-of-st-columbas-hospice/