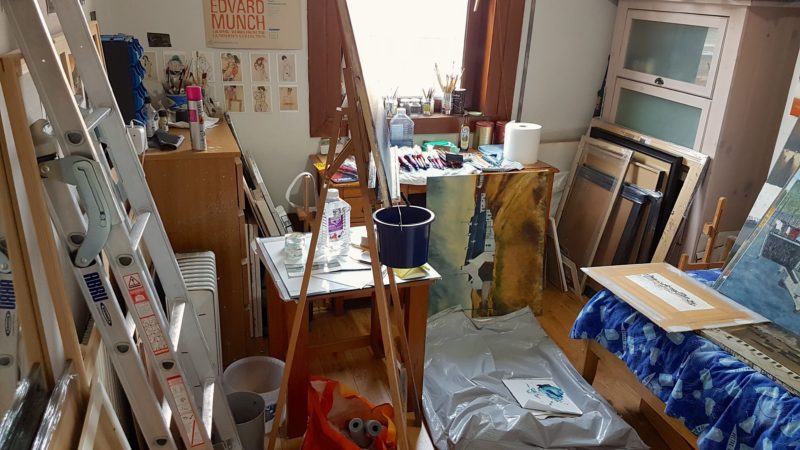 Like a lot of folk, my life during the coronavirus lockdown has involved a lot of spring cleaning. I've also been redecorating and making lists of things to do that I've been putting off for years. I've tidied the shed and just finished making a pond in the garden. But I haven't painted a picture for a while (see above), though I have painted just about everything else within reach!
I know I'm not alone in thinking this form of house arrest is an opportunity to see life differently. To consider what actually matters as we go forward, but also the stuff that really doesn't matter.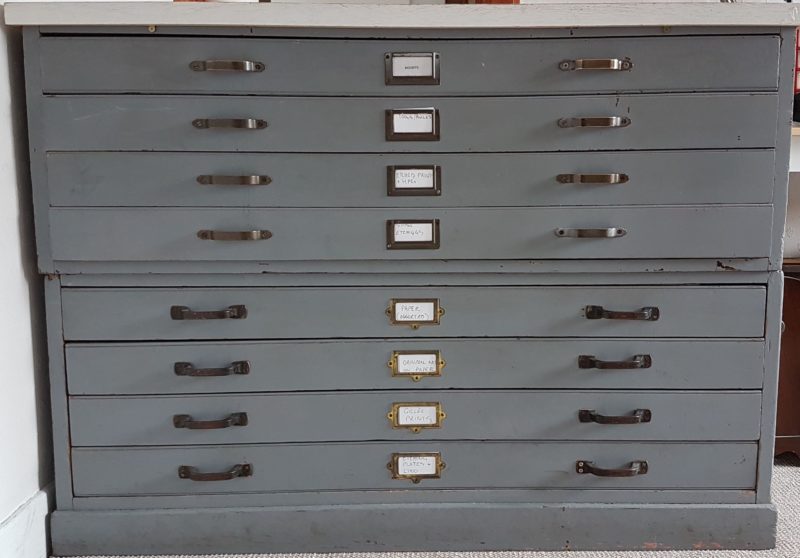 Lockdown Spring Clean
So in the spirit of making positive changes (and not having much else to do) I decided it was time to tackle my plan chest. It's where I keep all my etchings, prints and paper-based work. There was so much in it I could barely open the drawers! Here's a small pile of the pictures that were clogging up just 1 of them. I've been carting this stuff around like a heavy load for years without really knowing why. It's mostly duff prints and paintings that went wrong. This lot ended up in the bin where it should have gone years ago … and it feels like a weight off my shoulders.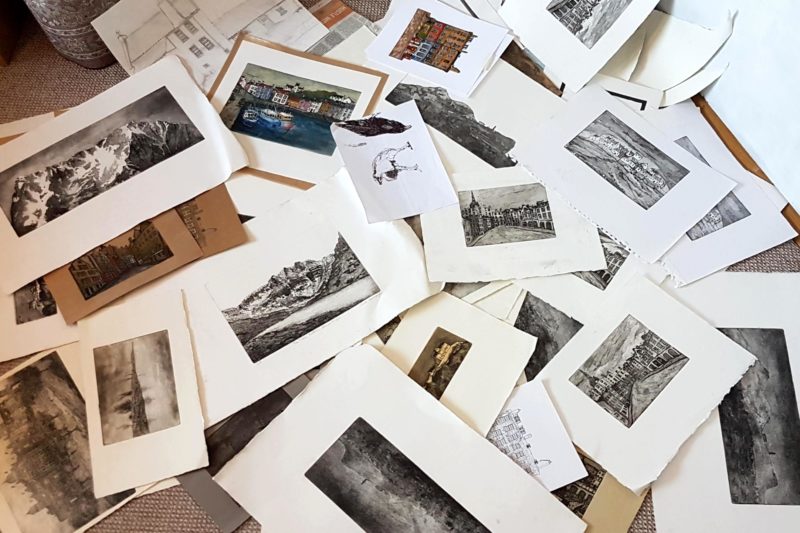 I used to think it was important to keep everything. Every proof, half-finished picture, sketch etc etc. It might come in useful or spark a new idea, and wasn't it Picasso who said "Keep Everything!" Well, he had plenty space for it and I don't.
Holding onto that stuff holds me back and keeps me tethered to the past, when I need to keep moving forward in life without looking back too much. To proceed with the clarity of mind that comes from having more time and space in which to think, work and live.
I've spent too much of my physical and mental energy over the years searching through piles of stuff (metaphorical and literal, and not just art related!) or trying to fix things that aren't worth fixing. Staying indoors for 2 weeks during the coronavirus outbreak and giving up non-essential travel and activities has shone a light on just how much non-essential stuff has filled my life up to now. It's all so distracting!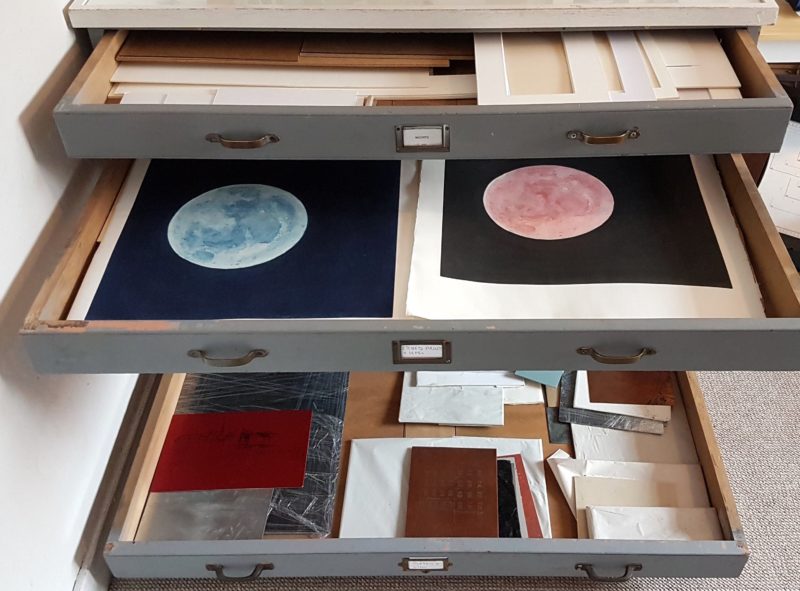 My Chaos Theory
But trying to make my life neat and tidy is all very new to me. I've always lived a fairly chaotic existence on the whole and generally tried my best (albeit subconsciously) to avoid having any real plan or structure. And while on the surface it might look to those who know me that it's a pretty happy-go-lucky way to be, the reality is that feelings of intense frustration and depression have often far outweighed any perceived benefits. Here's a silly but illustrative example from my typically chaotic life …
I often go on 'sketching' trips in my campervan and I'll spend ages packing everything I think I might need … just in case. Watercolours, oil paints, pastels, pens, inks, different papers, canvas boards etc etc. Practically an entire studio! But what if I want to go fishing? Best take sea and fly rods and all the necessary fishing paraphernalia I might need too. And what about the hills? So in go the the boots, jackets, rucksacks full of spare clothing, poles etc etc. Of course, I'll inevitably arrive at my randomly chosen destination having forgotten something (usually real essentials like food, the cooking stove and even bedding one time!).
But apart from my trusty camera (begging the question: which one should I take?) almost all of it tends to remain unused and taking up precious space in my already cramped van.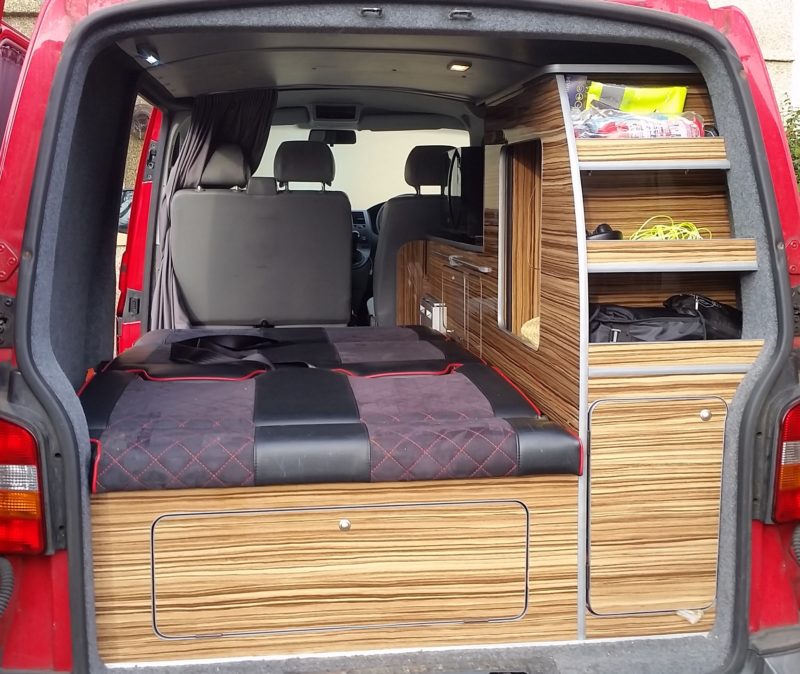 And why …?
Well I've never even been a sketcher for starters. I'm impatient and impulsive and find it very hard to sit still, so the thought of squatting for an entire hour trying to capture the perfect scene is a vision of pure hell for me! Photography, on the other hand, is instant and I prefer to work directly from photos or memory later on.
So I must take all that stuff simply because I've spent years accumulating it and probably need to justify keeping hold of it to myself. But I've recently come to the conclusion that it's mainly because I can't (or won't) make a plan. I tend to lack the focus and powers of concentration that good forward planning generally requires. But it's who I am … at least it was until recently …
ADHD & Me
So where am I going with all this? Well a few months ago I was diagnosed with ADHD. And it has been totally life changing! Both because of the medication I'm taking for it (a form of slow release Ritalin) and also just knowing what ADHD is and how it affects people. (I've added an excellent Youtube link below if you're interested to find out more about ADHD.)
Now I'm beginning to do things that I assume most people usually take for granted, like concentrating on one task at a time and being able to listen without having to ask for repeats. Just thinking calmly and with 20:20 focus on whatever I happen to be doing is something I've always struggled with. This ADHD diagnosis has been nothing short of a revelation and a real 'light bulb' moment in my life.
The effect of the medication has been to literally slow me down to the extent that even the hours of each day seem to last longer – in a good way! (This seems to amuse and confound most people, considering Ritalin is a stimulant.) I just seem to be getting so much more done now. And, while all this means that it feels like I have more time, my energy and concentration levels have also improved way beyond what I thought possible (or 'normal', you might say). The upshot is I've never felt so happy, confident or, dare I say it, chilled out about the future.
And the Future is Bright!
It's early days and pretty ironic I know, but this lockdown combined with the ADHD diagnosis and treatment have helped me beyond expectations. Together they've allowed me to stop, think and plan ahead with a focus and clarity that has eluded me for the past 50 years. They've also given me the time and the 'positive' energy I need to get things done well and efficiently in the here and now, day by day. (I've never been short on energy, but it wasn't always the positive kind.)
So I'm really looking forward to getting back to the easel and on with new work. But before I'm ready for that I need to hyperfocus productively on the jobs currently in hand. Next up is to tidy that studio. After all, a tidy house/studio/shed really is a tidy mind!
………………………………………………………
I hope you and you folks are keeping well during the corona lockdown, and that we will all emerge from it having gained something that'll make the world a happier and healthier place to live. Hope to see you on the other side!
PS. You might be interested to hear that Picasso, Van Gogh and Leonardo da Vinci are thought to have had ADHD. Here's another link to a very interesting article from The Charmed Studio about that and some other stuff I've mentioned above.
PPS. If you think you or someone you know might have ADHD and you fancy having a laugh while trying to find out then click here. It's a hillariously 'unscientific' but enlightening self-diagnosis quiz, by comedian and fellow ADHDer Rick Green.