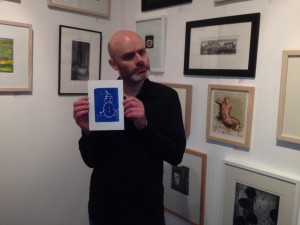 The past week or so I have travelled the length and breadth of the country sorting out frames and delivering my work to various galleries in time for their Christmas shows. It's all been a bit exhausting, though it's always great to get the studio and my flat back to being a home and not something that resembels Edinburgh Arts back storeroom! So come the end of the week, all I had to get through before getting away in my campervan for a much needed holiday in Wales was a long day of demonstrating printing techniques to the Art Fair visitors. The fact that wine was literally flowing freely the evening before at the preview meant I had to get throuogh the day with a raging hangover, while keeping my spirits high and smiling like a Blue Peter presenter! I needn't have worried though. I was having so much fun that the time just flew by! Our Fife/Dunfermline Printmakers stand seemed to be a big hit with the punters, and at one point we had quite a cue waiting to take a turn at printmaking. I had lots of time too to wander around and chat to many of the gallery owners showing there, and I ended up making quite a lot of connections and possible future gallery partners.
What turned out to be a wonderful day finished with another free bar and a casino night as we celebrated the 10th anniversary of the Edinburgh Art Fair with all the other exhibitors. I have to admit that my fellow printmakers Jai, Gordon, and I made the most of that!
So I'm heading off to Wales now, nursing yet another hangover, but with a warm possibly whiskey-induced glow inside. All the major pre-Christmas work is done so it's time to get back to doing what I love most, travelling and finding lots of new places to inspire the next batch of paintings and prints.